AngelKissedFeet.com is a foot fetish website featuring MILF feet, bare feet, barefoot, footjob, footjobs, soles, wrinkled soles, toes, long toes as well as sexy heels. If you like masturbating or jerking off to foot fetish pictures and foot fetish videos then Angel Kissed Feet is the foot fetish website for you.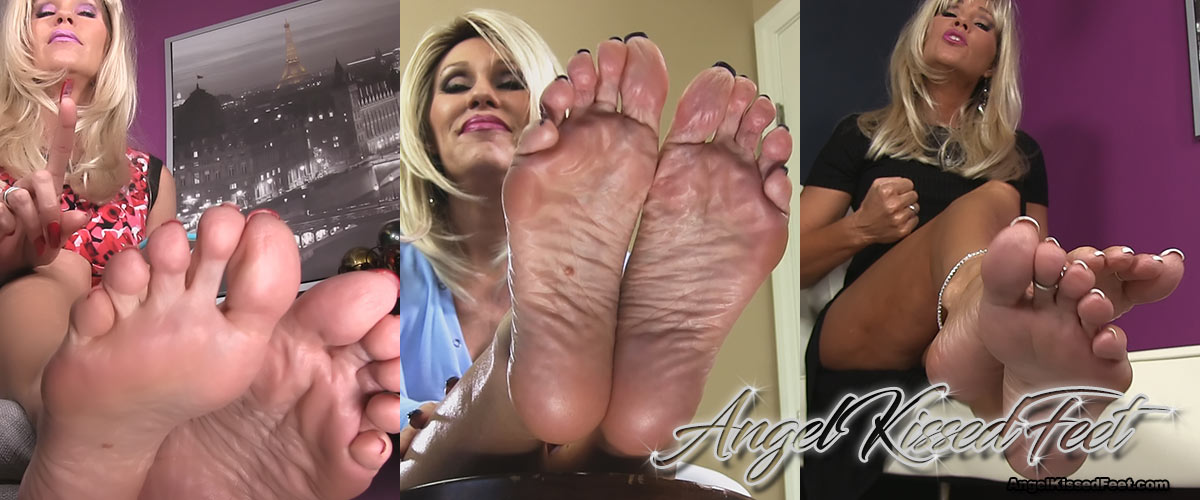 This site features Adult Content - You Must be 18 Years or older to view AngelKissedFeet.com Adult Fetish Website! This is an adult fetish website which may contain hardcore graphic sexual images that some may find offensive. If you're offended by adult material or if you are not of legal age (18), (21) in some jurisdictions, you must leave this website now. By entering this website and viewing its contents you are agreeing to be bound by the terms and conditions*
This is a site designed and intended solely for adults -- people who are at least 18 years old -- who are interested in and wish to have access to visual images and verbal description. The Materials which are available within this site may include graphic visual depictions and descriptions of nudity and sexual activity and should NOT be accessed by anyone who is younger than 18 years old or who does not wish to be exposed to such Materials. By viewing any portion of this website, you are personally making all of the following statements:
"Under penalty of perjury, I swear/affirm that as of this moment, I am an adult, at least 18 years of age, and have the legal right to view and possess adult oriented material within my community and/or within the community that I am in at this moment. Any identification that I use for verification of legal age is mine and no one else's."
"I promise that I will not permit any person(s) under 18 years of age to have access to any of the materials contained within this site."
"I understand that when I gain access to this site, I will be exposed to visual images, verbal descriptions, and audio sounds of a sexually oriented, frankly erotic nature, which may include graphic visual depictions, graphic audio, and descriptions of nudity and sexual activity. I am voluntarily choosing to do so, because I want to view, read and/or hear the various materials which are available, for my own personal enjoyment, information and/or education. My choice, personally and without coercion, is a manifestation of my interest in sexual matters, which is both healthy and normal and, which, in my experience, is generally shared by average adults in my community. I am familiar with the standards in my community regarding the acceptance of such sexually oriented materials, and the materials I expect to encounter are within those standards. In my judgment, the average adult in my community accepts the consumption of such materials by willing adults in circumstances such as this which offer reasonable insulation from the materials for minors and unwilling adults, and will not find such materials to appeal to a prurient interest or to be patently offensive. I am legally able to view and download such items according to the laws by which I am governed."
"I understand this site uses an automatic rebill cycle according to my selected payment options. To discontinue a rebilling membership and further charges, I must cancel my account using the cancellation options in the members help area or on the join page. Subscription fees are non refundable. Unless and until this agreement is canceled in accordance with the terms hereof, rebilling members hereby authorize the charge of their credit card, checking account, or other approved facility, for any and all purchases of products, services and entertainment provided. Membership may not be assigned or transferred to any other person or entity. When termination is requested by a member, subscription fees are NOT refunded. Subscribers are liable for charges incurred by them until termination of service."
"I will file no charges or suits against the owners of this website and I will not attempt to by-pass any security and/or access feature at this site. I will not attempt to use stolen or fraudulent credit card numbers. I will not sell and/or in anyway copy or redistribute the contents of this site or any passwords or security codes that I obtain from this site. Individuals who attempt credit card theft, fraud, and/or charge backs will be listed on the Internet Merchant Blacklist, as well as reported to credit agencies and Law Enforcement authorities. By going further into this site, from this page or any other entry point, I release and discharge the providers, owners, and creators of this site from any and all liabilities which may arise. Book-marking to any page on this server/site, whereby this warning page is by-passed, constitutes an implicit acceptance of the foregoing terms herein set forth. I have read and agree to all of these statements, as well as the statements on the Legal Information page for this website., and agree to comply with all statements contained therein."
"My interest in this material is personal, and not professional. I do not work for any law enforcement agency. I am not accessing this material to use against the site operator or any person whomsoever in any conceivable manner."
"I am not accessing this material to use against the site operator or any person whomsoever in any conceivable manner."
"If I use the services of this site in violation of the above agreement, I understand I may be in violation of local and Federal laws."